Mushroom season is here!!
Carved mushroom season is here, these are created mostly from hardwoods. Carved from Hickory,Walnut and other woods these mushrooms are one of kind. Standing at about 1 foot tall, they will be a focal point of any garden or walkway. Each one has the grain tell the story that will last for years. Carved with chainsaw's and some light sanding, then finished in natural oil. Just like real mushrooms they're gone before you know it, so contact us today about pricing and availability.
Custom Raised Log Flower Beds
These raised log beds are made from pine and cedar and allow you to bring a garden onto a deck or other area that needs a easy to maintain garden bed. Varying in size from a 18" by 2 foot to a larger 2 foot by 3 foot these beds give you a great looking yet functional flower or garden bed. The logs are custom fit to make each bed a unique piece of working art. Custom lettering can be added to personalize a headboard making it a very special gift. Will last for years to come.
Giant KU Logo about 3 foot wide and 3 foot tall
KU Hunting Jayhawk "It's open season on the rest of Big 12 mascots".
Kansaw Chainsaw Jayhawks on video
Stihl Shop Sign
Jayhawks are carved for fun and not for sale at this time, but check back soon!
Chainsaw carvings with a Kansas slant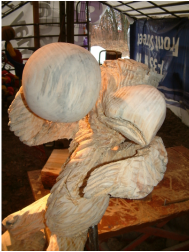 Kansaw Jayhawks are carved from reclaimed logs, no trees we're solely taken down to create our work. They are saved from a untimely end in the chipper or burn pile. The trees are Kansas grown so they are perfectly suited to become Kansaw Jayhawks. Most of these trees were around for the three NCAA Basketball Championship's. Some logs you know what they want to be, others have to be coaxed but there is a Jayhawk in most of them.
---
Project Started 3-22-2012 Finished 3-30-2012 Dupont-True Auto Sign
This will be a 90% chainsaw work with some touchup with a saburr bit in a dremel around the small lettering. Then light sanding and staining with a final coat of Imron.
Our "Saw Dog" Eden-Rhodesian Ridgeback